Haunted valley in Madinah attracts paranormal buffs
Tuesday, January 9, 2018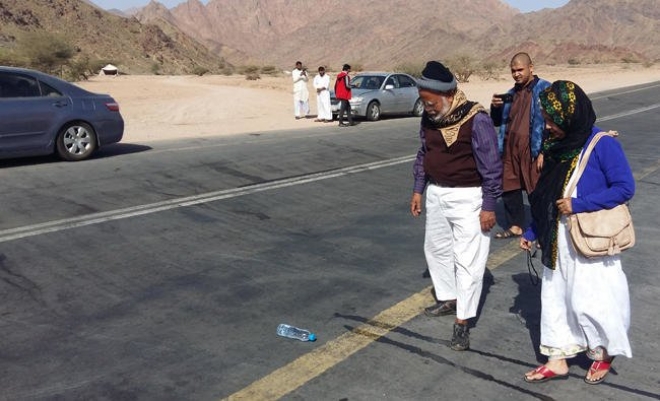 Many pilgrims visiting Madinah during the Umrah season in order to visit the Prophet's Mosque and the province's historical and Islamic sites also get to enjoy recreational programs that include land trips.
Arab News joined pilgrims of different nationalities as they visited the Al-Baida Park, which is also known as Wadi Jinn (the Valley of Jinn).
Al-Baida Park is 40 km northwest of Madinah, and is one of the most attractive sites for families and pilgrims.
Taxi driver Abdullah Al-Harbi told Arab News that pilgrims came to Al-Baida Park for entertainment and to enjoy the wild atmosphere, especially in the early morning.
"This program is organized in coordination with the heads of Umrah groups," he added, "Al-Baida Park is a new destination for pilgrims."
Pakistani-British pilgrim Amjad Khan said that he heard of Al-Baida from friends who had previously visited the place and enjoyed the beauty of Wadi Jinn and the wonderful atmosphere.
He continued: "As you can see, everyone is enjoying the scenery, taking beautiful photos, watching the camels, and loving the mountains that are covered with white and golden sand, various reefs, and wild trees."
Al-Baida Park is very famous due to its association with Wadi Jinn and its strange phenomenon, which was explained as a geographical one, making it a destination for pilgrims of different nationalities, especially Pakistanis, Indians, and Arabs.
Al-Harbi said that brokers have exploited pilgrims' interest in Al-Baida and promoted it in different ways for financial gains.
"You find dozens of cars and busses in Wadi Jinn eager to experience the reverse gravity phenomenon, which makes a car roll uphill," he explained, "People have also tried pouring water on the asphalt and rolling down the road to prove that cars were moving on their own."
Source: http://www.arabnews.com/node/1221666/saudi-arabia