Haramain Express Train conducting weekly test runs
Tuesday, January 16, 2018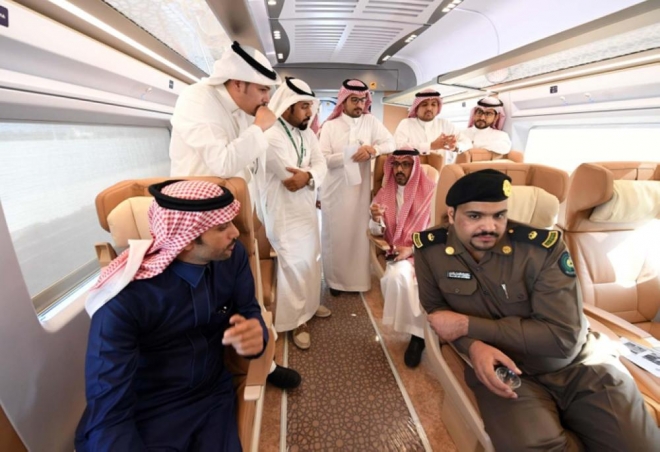 The Haramain Express Train on Saturday continued its weekly test runs between Madinah and Makkah covering a distance of 450 km, according to the Saudi Railway Organization (SRO).

The weekly trial runs between Makkah and Madinah are usually made on Saturdays. The train departs Madinah in the morning and return in the evening.

"This is in preparation for commercial operation of the train which will be duly announced," the company said.

According to SRO, the train departed Madinah for Makkah at 9 a.m. on Saturday and returned to the Prophet's city in the evening.

SRO said all the authorities concerned are invited to join the test runs so as to provide their feedback prior to launching commercial operations.

SRO conducted the first complete trial run of the Haramain high-speed train from Jeddah to Madinah last July.

Reaching a speed of 330 kph, the new train could cut travel time between the two cities down to as little as 90 minutes. The new 12,000 horsepower electric locomotive would save as much as 120 minutes of the current commute between Jeddah and Madinah.

The Haramain high-speed rail line is a 450km network connecting the Kingdom's two holy cities of Makkah and Madinah via stations at the new airport in Jeddah and at King Abdullah Economic City near Rabigh. It has been designed to reach speeds of up to 360kph.
Source: http://saudigazette.com.sa/article/526181/SAUDI-ARABIA/Haramain-Express-Train-conducting-weekly-test-runs