Prophet's Mosque to accommodate 10,000 for Itikaf on rooftop
Sunday, April 1, 2018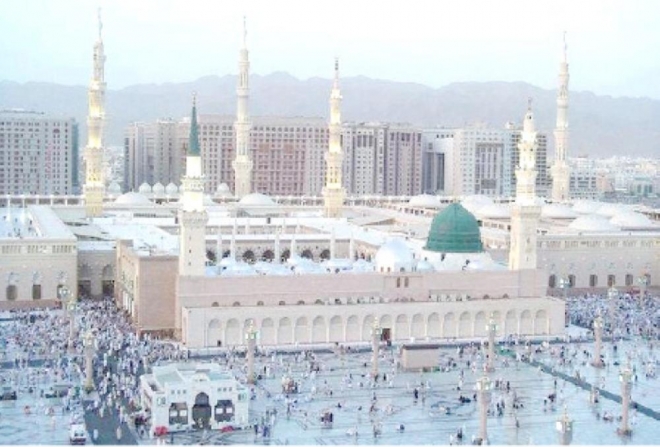 Saudi Gazette report

MADINAH — Arrangements are being made at the Prophet's Mosque in Madinah to accommodate 10,000 worshipers who intend to perform the ritual of Itikaf (seclusion and staying in the mosque with the intention of worshiping) during the month of Ramadan.

This year in the holy month of Ramadan, which is due in mid-May, the Mu'takif (those observing Itikaf) will be allowed to do so only on the roof of the Prophet's Mosque.

Prince Faisal Bin Salman, emir of Madinah and chairman of the Haj Committee in Madinah, has approved the committee's recommendation to make arrangements on the roof of the Prophet's Mosque for Itikaf and allocating the ground floor of the mosque for prayer only.

Chairing the meeting of the committee in Madinah, Prince Faisal stressed the importance of working to address the inconvenience caused by some visitors who take personal belongings inside the Prophet's Mosque and place them in inappropriate places in violation of the guidelines regarding Itikaf.

The emir has instructed that a working team be constituted to develop an integrated mechanism to regulate the process of registration of worshipers who intend to perform Itikaf in the Prophet's Mosque.

Earlier, the Presidency for the Affairs of the Two Holy Mosques had launched online registration facility for prospective worshipers intending to perform Itikaf at the Grand Mosque in Makkah. The basement of the King Fahd expansion area of the mosque is earmarked for Itikaf.

Itikaf is an Islamic practice consisting of a period of spiritual retreat in a mosque especially during the last 10 days of Ramadan and it is a Sunnah (Tradition) of Prophet Muhammad (peace be upon him).

Source: http://saudigazette.com.sa/article/531696/SAUDI-ARABIA/Prophets-Mosque-to-accommodate-10000-for-Itikaf-on-rooftop