People await grand opening of new Jeddah airport
Monday, April 16, 2018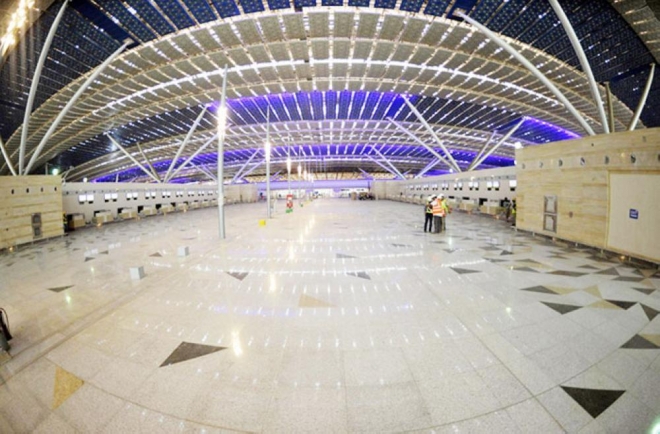 Saudi Gazette report

JEDDAH – The people of Makkah region, especially Jeddawis are eagerly awaiting the opening of the new King Abdulaziz International Airport (KAIA), the main gateway to the Two Holy Mosques.

The new airport, which was established at a total cost of SR36 billion, was supposed to be opened in the beginning of this year but the inauguration has been delayed further without any reasons offered.

Experimental operation of the airport will start from May 1 while its official opening is set for Jan. 1, 2019. The General Authority of Civil Aviation (GACA) has released KAIA's new pictures, highlighting its state-of-the-art facilities.

The airport has been designed to accommodate more than 80 million passengers annually. People expect that the new airport would meet their hopes and aspirations providing better facilities and services.

Apart from being the main gateway of pilgrims coming to perform Haj and Umrah from all over the world, KAIA plays a significant role in providing quick connections to domestic and international destinations.

The new airport provides greater space for passengers and airlines and extends better services following international standards.

"It's set to become an economic center and an outstanding cultural landmark in the Kingdom. It will boost the country's social, economic and commercial development in the coming years," said a business analyst.

The airport will be temporarily operated by GACA from May before it is handed over to a specialized company for operation and maintenance. GACA abruptly canceled an agreement with a consortium of Changi Airports International and Saudi Marine Support Company and decided to call new tenders to award the contract to a better airport management company.

The move has disappointed Jeddawis who thought it would affect the airport's reputation and services. GACA has allayed their fears saying the airport management would soon be handed over to a new company.

Experimental operation of the airport will start in the beginning of May with eight Saudi Arabian Airlines flights daily. The number of flights will be increased gradually while ensuring the airport's full preparedness for total operation.

The airport's new terminal covers an area of 670,000 sq. meters. It has 46 air bridges for passengers to board flights. It will be increased to 96 bridges at a later stage. It is designed to welcome huge aircraft such as A380s.

The airport project includes a five-star hotel, shopping centers, a public transport system, an advanced communication center, a railway station for Makkah-Madinah Speed Train and 60 km of baggage conveyer belt.

"The new airport has the most advanced security and control systems, an air navigation tower and a fuel supply station in addition to a network of roads and tunnels," said a GACA official.

The airport presently hosts over 60 domestic and international airlines in its passenger and cargo terminals, including the national carrier Saudi Arabian Airlines. In 2016, the airport handled a record 31 million passengers.

Source: http://saudigazette.com.sa/article/532822/SAUDI-ARABIA/People-await-grand-opening-of-new-Jeddah-airport