Youth call for issuing licenses for food trucks in Makkah
Saturday, April 28, 2018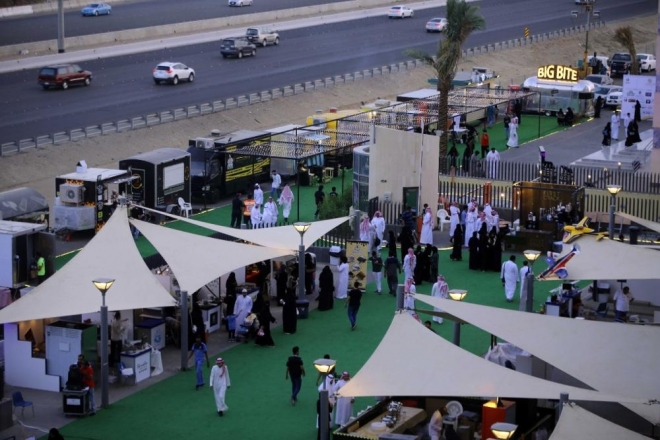 Saudi Gazette

JEDDAH — A number of food truck owners have voiced concerns at the delay in giving them licenses, while citing that other cities have welcomed these entrepreneurs with some even running the businesses illegally. They said that till now they have not been issued licenses to run food truck businesses in Makkah unlike other cities in the Kingdom.

Faisal Al-Lihaibi, who holds a bachelor in biology from Om Al-Qura University, said he started his food truck business two years ago. He explained, "I work for one month and then I stop for a month because we struggle to get a license since the municipality in Makkah does not give licenses to this business."

Al-Lihaibi said although they have provided all documents needed, including health cards, yet they still hear from the municipality for two years now that the issue is still under study. "Sometimes the municipality allows us to work in streets but soon representatives from regional municipalities ask us to close down the business because we do not have a license. This, of course, results in losses but we wait for another round because we are passionate about our work."

Al-Lihaibi said they are optimistic now about their situation since they have raised their concerns to Prince Abdullah Bin Bander, Deputy Emir of Makkah, who was visiting Shaghaf 2 exhibition at Makkah Chamber of Commerce and Industry. "His visit was very supportive and he has promised to give us good news."

Barra Khayat said he sells liver sandwiches in his food truck and hopes to expand his business by establishing restaurants. He said there is a great support for youth from the government and we are optimistic that Prince Abdullah has expressed his support to issue licenses for the food truck business in Makkah.

Abdulrahman Hariri, another owner of a fast-food truck, said he is keen to improve his business and added, "As a Saudi youth with food truck businesses we are committed to health and safety measures and we are committed to regulations. The support we have received from Prince Abdullah has made us proud."

Prince Abdullah Bin Bander inaugurated lately the four-day Shaghaf 2 exhibition at Makkah Chamber of Commerce and Industry (MCCI). Hisham Ka'aki, chairman of MCCI, said they hope this exhibition will be a platform that encourages entrepreneurship and create youth ideas. He added that with 70 percent of the Saudi population under 30 years old they hope the private sector moves forward to achieve a flourishing economy through supporting youth.
Source: http://saudigazette.com.sa/article/533734/SAUDI-ARABIA/Youth-call-for-issuing-licenses-for-food-trucks-in-Makkah