Three million people in Madinah benefit from shuttle transport
Sunday, May 13, 2018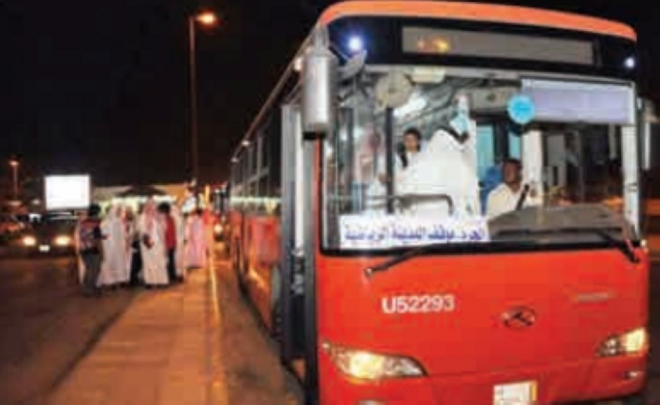 Saudi Gazette report

MADINAH — About three million people in Madinah have benefitted from the shuttle transport project during the past four years, local daily Al-Watan reported on Sunday quoting the Madinah Development Authority, which is operating the project that has been in existence for the sixth successive year.

Under the project, the residents and visitors will use air-conditioned buses, which will make shuttle trips from the various neighborhoods to the Prophet's Mosque and back during the holy month of Ramadan.

The authority has allocated nine tracks for the buses which are geographically distributed to cover all the districts in the Prophet's city.

The trips to and from the Prophet's Mosque will start at 3 p.m. and continue until after midnight while during the last 10 days of Ramadan, the trips will continue for half an hour after the Tahajud (late night) prayers.

The authority has introduced a free-of-charge special application on the mobile phones to show the user exactly where he or she are standing and which is the nearest bus stop to them.

It has also provided more than 200 people consisting of employees and volunteers to supervise the movement of the buses and ensure smooth flow of traffic.

The authority had liaised with the department of traffic to close down a number of roads leading to the central area around the Haram for about an hour after each prayer to ensure a continuous flow of traffic.

Director of Madinah traffic, Col. Salah Sammar Al-Jabri asked the residents to use the shuttle buses instead of their own private cars so as to reach the Prophet's Mosque quickly.

"This will reduce the pressure on the main streets and ensure smooth flow of traffic as the shuttle buses have special parking lots near the mosque," he said.

The parking lots of the buses are spacious, lighted and have enough number of toilets. They are also controlled by the security 24 hours a day.

Source: http://saudigazette.com.sa/article/534798/SAUDI-ARABIA/Three-million-people-in-Madinah-benefit-from-shuttle-transport