Over 10,000 staff in service as faithful flock to Makkah
Wednesday, June 6, 2018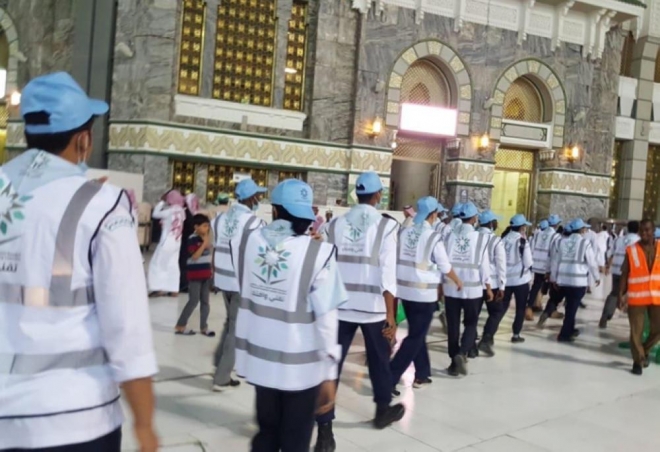 Saudi Gazette report

MAKKAH — All concerned government and private agencies and security forces have made unprecedented arrangements and elaborate preparations to cope with the massive crowd of the faithful thronging the Grand Mosque in Makkah during the last days of Ramadan.

Custodian of the Two Holy Mosques King Salman arrived in Makkah on Monday evening to spend the last 10 days of the holy month in the vicinity of the Holy Kaaba.

Prince Khaled Al-Faisal, emir of Makkah and adviser to Custodian of the Two Holy Mosques, is closely supervising the arrangements made for a record number of Umrah pilgrims.

The Presidency for the Affairs of the Two Holy Mosques has deployed more than 10,000 male and female staff to ensure the pilgrims and visitors perform their rituals in ease and comfort.

The presidency has kept open 210 doors of the Grand Mosque, of which 38 are exclusively for people with special needs and seven for women.

There are 28 escalators, and seven bridges. It has also made available 10,000 wheelchairs and 700 electric carts.

Thousands of cleaning workers are deployed at the basement, ground and first floors of the Grand Mosque as well as its roof, courtyards, mataf, mas'a and the King Abdullah Expansion Area.

Around 107,000 pilgrims can perform tawaf with the expansion of the mataf and 80 percent of the northern expansion project is also open for the faithful.

The Haram Security Forces and the Civil Defense have deployed thousands of personnel to ensure safety and security of pilgrims and visitors to the Grand Mosque.

The Makkah mayoralty has mobilized 11,825 cleaning workers. They have been provided with more than 850 machines to keep the holy city neat and clean.

The Makkah Traffic Department has readied nine parking sites for those arriving by private vehicles.

More than 100 buses are operating shuttle services to the Haram.

The Health Department has completed all preparations to make available quick health services.

More than 100 doctors at the Grand Mosque Emergency Hospital have been deployed.

Source: http://saudigazette.com.sa/article/536455/SAUDI-ARABIA/Over-10000-staff-in-service-as-faithful-flock-to-Makkah