Ministers inspect facilities at new Jeddah airport and Haj terminal
Thursday, July 5, 2018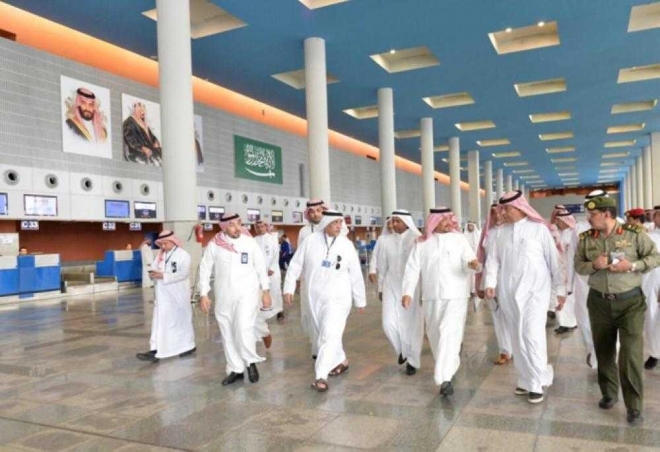 JEDDAH — Minister of Haj and Umrah Muhammad Saleh Benten, Minister of Transport and Chairman of the board of General Authority of Civil Aviation (GACA) Nabeel Al-Amoudi and GACA President Abdul Hakeem Al-Tamimi inspected the arrangements and facilities made for the Haj and Umrah pilgrims at the Haj terminal of King Abdulaziz International Airport Jeddah on Thursday. They also made an inspection tour of the new Jeddah airport.

The visit comes in line with the directives of Custodian of the Two Holy Mosques King Salman to extend the best ever services and facilities for the Haj and Umrah pilgrims and the visitors to the Two Holy Mosques, the Saudi Press Agency reported. In their field visit, the ministers met with senior officials of all departments and facilities at the terminal.

They were briefed on various programs and high tech facilities for receiving the pilgrims as well as for completing immigration and screening procedures. The tour also covered the Passport Zone 4 that was recently equipped with high tech reception counters and lounge No. 11 that was designed for the pilgrims who have completed their immigration procedures from their embarkation points in Kuala Lumpur and Jakarta.

The ministers and the GACA chief also inspected the facilities and services at the new airport and the newly introduced advanced technologies. Al-Amoudi said GACA is keen to simplify all the travel procedures for the pilgrims and visitors as well as to reduce the duration of procedures for the arrival and departure and that is in coordination with all the concerned departments and agencies.

Source: http://saudigazette.com.sa/article/538353/SAUDI-ARABIA/Ministers-inspect-facilities-at-new-Jeddah-airport-and-Haj-terminal