PHVG starts training sessions for volunteers
Wednesday, July 11, 2018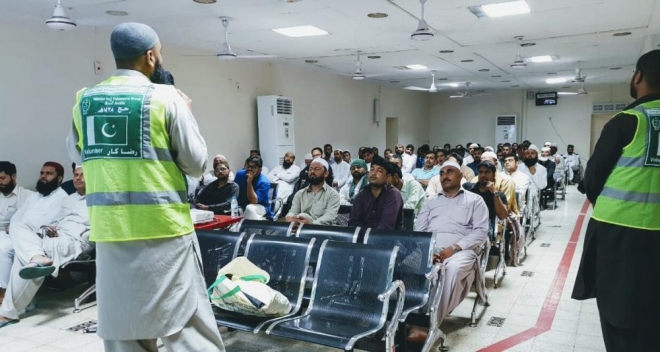 Saudi Gazette

JEDDAH — The Pakistan Haj Volunteers Group (PHVG) has started its training sessions for volunteers in Jeddah, Riyadh, Dammam, Makkah, Yanbu and other cities in the Kingdom for the Haj operations 1439H.

More than 2,000 volunteers are expected to perform volunteer services to the pilgrims this year. About 1,400 volunteers have already registered themselves and PHVG has started training sessions for them.

In Jeddah all training sessions are being held in Pakistan Consulate building, whereas in Riyadh the Knowledge Core Academy at Exit 9 is being used for training of volunteers.

In Makkah, the building No. 808 at Abdullah Khayat Road is the venue of all training sessions. Similar arrangements are also made in Dammam, Yanbu and other cities. PHVG trainers are using maps, training slides and other audiovisual equipment to train the volunteers during the training sessions.

Every possible effort is being made to prepare the volunteers to serve, guide and assist the pilgrims in the best possible manner during the Haj. For Haramain project, PHVG Makkah and Madinah units are also ready to assist and guide the pilgrims, soon after their arrival in the Holy cities for the performance of Haj.

The PHVG, meanwhile, has prepared two mobile applications for the guidance and assistance of the pilgrims. These applications are free and can be downloaded easily.

"MINA Locator" is made for Android smart phone mobile users and it can be downloaded from Google Play Store. For iPhone mobile users "Haj Navigator" has been prepared and it can be downloaded from Apple Store easily.

All information regarding the Camps (Makaatib), Jamaraat, Train Stations, Slaughter House, Hospitals and clinics, Civil Defense, Roads, Zones in Mina are available in these applications.



Source: http://saudigazette.com.sa/article/538792/SAUDI-ARABIA/PHVG-starts-training-sessions-for-volunteers