Prophet's Mosque ready to receive visitors as Umrah season picks up
Thursday, November 16, 2017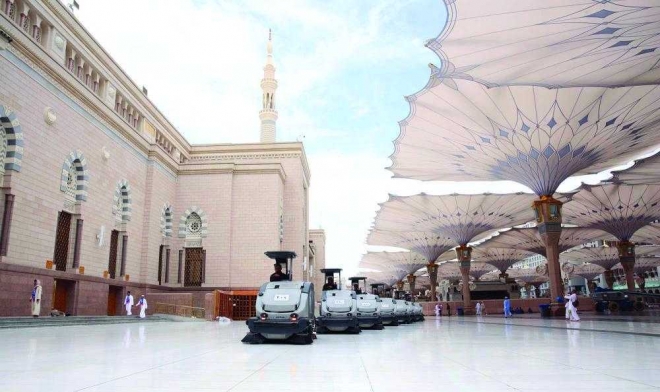 MADINAH — The Presidency for the Affairs of the Prophet's Mosque in Madinah is implementing its operational plans for the current Umrah season. It is providing all services to the pilgrims visiting the Prophet's Mosque in accordance with the directives of the Custodian of the Two Holy Mosques King Salman and Crown Prince Muhammad Bin Salman.
The presidency has thrown open all 100 doors of the mosque to visitors to facilitate access.
Dr. Ali Al-Obeid, deputy head of the presidency, said the objectives of the general plan were to prepare the Prophet's Mosque and its facilities, starting with opening and supervising doors, cleanliness of the mosque indoors and outdoors, providing wheelchairs for people with special needs, facilitating mobility for the elderly in the courtyards of the Prophet's Mosque with golf carts, and providing guidance for lost persons.
Al-Obeid said a complete library containing scientific books and manuscripts, in addition to audio lessons and recitations of the imams of the Prophet's Mosque was available to visitors for reference.
Source: http://saudigazette.com.sa/article/521980/SAUDI-ARABIA/Prophets-Mosque-ready-to-receive-visitors-as-Umrah-season-picks-up