Hajj documentary released
Wednesday, November 22, 2017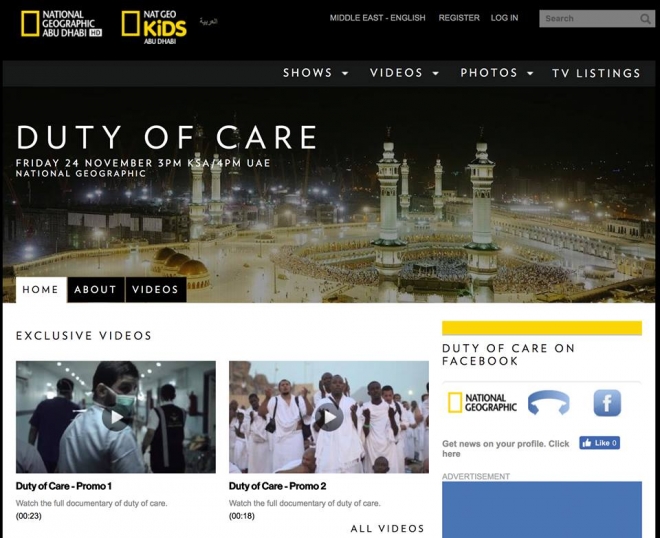 ABU DHABI: National Geographic Abu Dhabi (NGAD) in partnership with the Ministry of Health in the Kingdom of Saudi Arabia yesterday announced the launch of 'The Duty of Care,' a documentary providing a rare insight into the single largest congregation in the world and highlighting the role of the Ministry of Health in safeguarding the well-being and health of over 2.5 million devout pilgrims who undertake the annual Hajj journey.

The documentary showcases the complex health infrastructure required to service such a large gathering, requiring 30,000 dedicated healthcare givers, 155 primary healthcare centres and 25 hospitals equipped and powered to support medical requirements and emergencies during Hajj. They work hand in hand with over 5,000 MOH paramedics located around the Grand Mosque, who use the latest GPS technology to locate every single person requiring medical attention and reach them in a timely manner to attend to their needs.

With over 2.5 million pilgrims visiting the Kingdom annually, the Ministry of Health has a large responsibility to ensure the safety and well-being of the pilgrims. The Kingdom of Saudi Arabia have put in place an integrated health infrastructure to this end, using specialists and the latest technology to provide advanced care and efficiently deploy resources in a timely manner.

The vision behind the enormity of this collective effort is to provide all visitors the necessary medical support so that they can focus on one thing and one thing only, their holy spiritual journey, their Hajj.Mover, preventative health measures represent a major priority for the Ministry of Health as they continuously stay up to date with the global health developments and trends in collaboration with the World Health Organization and other international health bodies such as the International centre for disease control.
The Kingdom of Saudi Arabia is a leading reference point in crowd medical management and support with extensive experience applauded by international medical organizations across the world. Saudi Arabia's vision 2030 presented a comprehensive strategy for the development of an integrated system aiming to increase the kingdoms' current capabilities of receiving 8 million pilgrims a year to 15 million by 2020 and eventually to 30 million by 2030.
Source: http://gulftoday.ae/portal/94167cf2-5ff8-4d94-a32a-ee4b368053cc.aspx