Makkah gets a much-needed cleanup
Saturday, March 31, 2018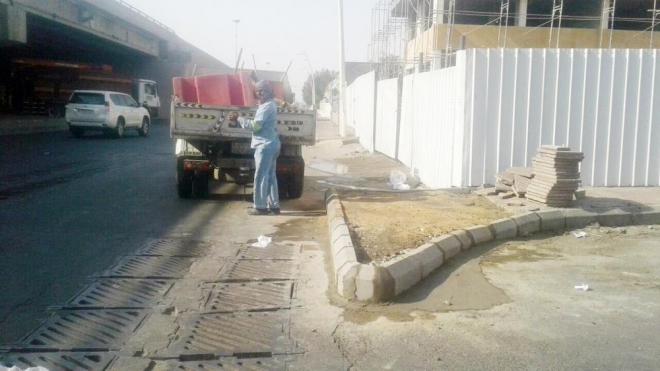 Saudi Gazette report

MAKKAH – The Municipality of Makkah has taken a series of measures to prevent visual pollution in the holy city, which is visited by millions of Muslim pilgrims from around the world to perform Haj and Umrah.

It removed 3,674 illegal billboards, dirty graffiti covering 2,006 meters, 1,785 damaged cars abandoned along the streets and 5,035 makeshift buildings, workshops and livestock enclosures.

The move comes as part of the Municipal and Rural Affairs Ministry's drive to ensure the Kingdom's aesthetic beauty. The program will be carried out in three phases to give visitors a good impression about Saudi cities.

The term visual pollution encompasses different visually unattractive elements of a certain landscape. "This type of pollution doesn't have to be necessarily connected to environmental damage, rather it is in fact an aesthetic issue that can vary from person to person," said a municipality official.

"Visual pollution can encompass things from landfills to advertising billboards, telephone and power lines, street signs, graffiti, traffic lights, and anything that someone might consider an eyesore. Visual pollution is also connected to most other forms of pollution," he added.

"If you see a lake that is full of empty soda cans, garbage bags, and used tires that is actually two forms of pollution. Firstly, it is water pollution, because you won't drink water that had trash floating in it, and secondly, it is visually not attractive and thus visual pollution," he explained.

The municipality has also removed 420 illegal parking sunshades inside residential districts, 229 exposed electric wires that threatened public safety, and repaired 45,620 square meters of damaged roads and pathways, repaired 129 street names and building numbers and removed 227,712 cubic meters of debris.

"We have also removed street vendors from 3,710 places across the city, demolished 3,496 square meters of haphazard constructions, removed some trees located along streets, trimmed branches of trees and increased the area of greenery and gardens to more than 9 million square meters. We have placed 4,161 garbage containers in different parts of the city," said the official while speaking to Okaz/Saudi Gazette.

The municipality also erased temporary service buildings and erected a 21-meter wall around a project under construction. "In total we have carried out more than 20 programs to prevent visual pollution in Makkah," said the official. "We have also removed a large number of damaged cars that were parked along streets."

The municipality has set out new rules and regulations to prevent visual pollution and ensure aesthetic beauty of the city, the official said. "We have removed illegal kitchens, auto workshops, puncture and oil change workshops. We have also repaired street lights," he added.

Raed Bin Sameer Mumina, supervisor of the ministry's aesthetic initiative at the municipality, said his organization has formed a number of teams to conduct field inspection tours in order to check scenes that would leave a negative perception about the city's aesthetic beauty.

Source: http://saudigazette.com.sa/article/531642/SAUDI-ARABIA/Makkah-gets-a-much-needed-cleanup