Haj draws French citizens, youth, reveals new study
Wednesday, May 9, 2018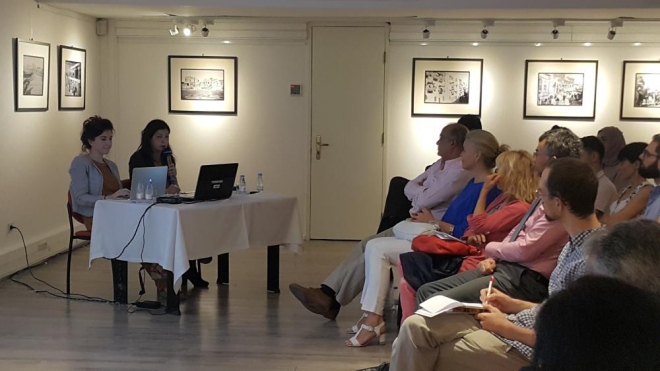 Saudi Gazette

JEDDAH — Thousands of French pilgrims, including a growing number of young people and women will perform Haj this year, according to a new study.

The study was revealed at the French Consulate here by Dr. Leila Seurat and Dr. Jihan Safar, researchers in political science, with the attendance of Mostafa Mihraje, consul general of France in Jeddah and a number French and Saudi personalities.

The conference was organized by the cultural department in partnership with the "Cercle des Amis de la Culture Française" (CACF).

In his opening speech, Consul General Mihraje said: "I am very pleased to be here with you this evening at this informative conference. First of all, I would like to extend my warmest welcome to Dr. Leila Seurat and Dr. Jihan Safar, for coming all the way from Paris to join us at this event."

He noted that the number of pilgrims increased substantially from 20,000 in 2016- 17 to an expected number of 26,000 in 2018.

Speaking on the occasion, Dr. Leila Seurat said more than 20,000 pilgrims from France performed the Haj last year, a number which doubled in the last ten years. The pilgrimage to Makkah has been attracting youth and original French citizens in large numbers.

She said since the attack on Paris, the French government has implemented new measures for a better organization of the Haj from France.

"We have conducted surveys and sought advise from all those who performed Haj in previous years in order to organize Haj for French pilgrims in a better way from the arrival of pilgrims to their departure," she said.

She noted that Haj is no more associated with old people, as French Haj trips have seen thousands of 15-35-year olds performing the Islamic spiritual journey to sacred places in Saudi Arabia.

Dr. Jihan Safar added that the Haj market in France has been deeply transformed. In particular, travel agencies that organize the Haj have mushroomed. These agencies are diversifying their offer by proposing new attractive commercial products.

"Around 60 travel agencies (those accredited by the Ministry of Haj) are authorized to organize the sacred travel and to deliver to the Saudi visas."

She noted that the emergence of young Muslim entrepreneurs, who are very active on the Internet, are playing a crucial role as spiritual guides before and during Haj.

Moreover, Dr. Seurat explained the sudden craze among the youth for the Makkah trip. She said: "The rising number of young French Muslims and French citizens performing Haj could be attributed to their keenness on discovering more spiritual horizons and on getting closer to their faith, in a social and cultural reality that makes religious practices very limited."

She said it is a sign of a new French phenomenon.

According to the researchers, the results of this study are based on semi-structured interviews carried out in France from August 2016 till January 2018 with travel agencies, guides, associations for the defense of pilgrims and official actors. In addition to the interviews, a pilgrims satisfaction survey was launched.

Source: http://www.saudigazette.com.sa/article/534575/SAUDI-ARABIA/Haj-draws-French-citizens-youth-reveals-new-study