Makkah's public transport system ferries over 1 million pilgrims daily
Saturday, May 26, 2018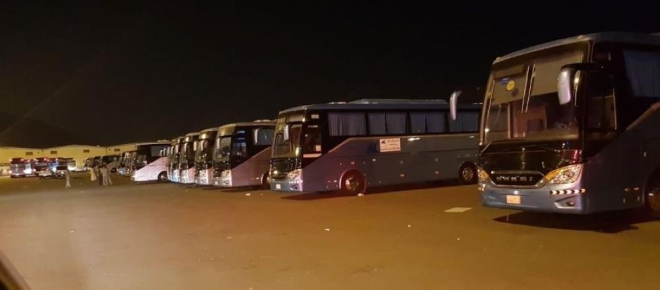 Saudi Gazette

JEDDAH — Pilgrims and visitors who arrive in Makkah from various parts of the Kingdom were facilitated with adequate parking on the outskirts of the holy city and public transportation facilities to reach the Grand Mosque.

Pilgrims were not allowed to take their private cars inside the city and security forces are regulating the entry of vehicles to avoid congestion in the central area of the city and ensure smooth movement of pilgrims around Grand Mosque. The security forces have been strictly monitoring and controlling vehicular movement with state-of-the-art technology since the start of Ramadan.

Exclusive parking spaces were allocated in various entry points of Makkah from where the pilgrims are routed to into a cluster of public transport stations.

The public transport system has been operating a massive transportation network to ferry the pilgrims from the parking clusters to the Haram.

An average of a million pilgrims and visitors commute through the public transport facility, according to the latest figures made available by the Emirate of Makkah.

"More than 4,439,000 pilgrims and visitors were transported to and from Haram in the first five days of Ramadan," said a statement released by the Emirate.

Motorists who arrive from the direction of Jeddah are being diverted to the Haj parking along Jeddah Expressway, those arriving from Riyadh and Dammam are scheduled to park their cars along Hada and Sharaya highways while Al-Laith Road parking is reserved for those coming from southern areas of the Kingdom.

There are a total of nine pick-up and drop stations integrated under the public transport system to ferry visitors and pilgrims to the Grand Mosque and back.

All public transport buses are equipped with Samsung's latest GPS technology to help monitor their movement, according to General Transport Syndicate that pressed 17,000 buses into service for the Ramadan season.

The public transport buses drop all arriving pilgrims around the Grand Mosque area. On the return leg, the buses take them to the drop-off junction in Aziziyah from where they have to board buses to their respective parking area.

Cars parked in unauthorized areas or main streets are being impounded and kept at four different locations outside the city. Those who have their vehicles towed can inquire about their whereabouts by logging on to http://mda-sa.com and entering their plate number.

A heavy presence of police keeps vigil in all parking areas, with officers in patrol vehicles clearing the tracks for the speedy movement of the buses. There is no room for private taxis as public transport buses pick up and drop off passengers by the minute.

Source: http://www.saudigazette.com.sa/article/535647/SAUDI-ARABIA/Makkahs-public-transport-system-ferries-over-1-million-pilgrims-daily