Women paramedics volunteer to help visitors of Prophet's Mosque
Saturday, May 26, 2018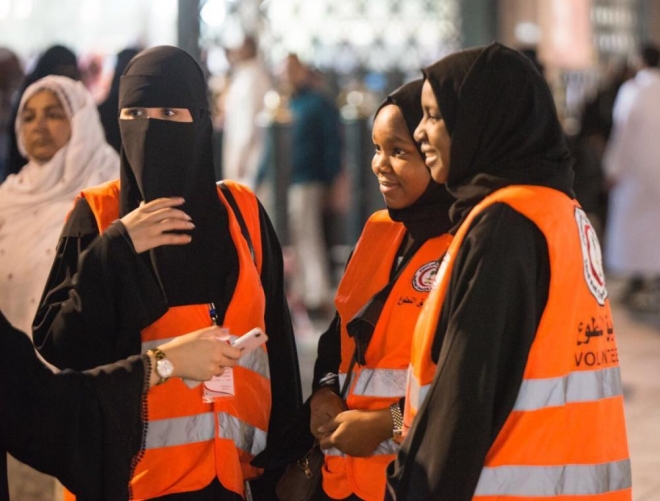 Okaz/Saudi Gazette

MADINAH — Women volunteers of the Saudi Red Crescent Authority have been taking care of visitors of the Prophet's Mosque in Madinah since the start of the holy month of Ramadan.

Madinah Red Crescent Women Volunteers Supervisor Jowhara Al-Dhilaan said she has been supervising the volunteer team in the mosque for the past 12 years.

"We welcome volunteers from all age groups and nationalities. We receive around 1,150 volunteers a year. We train them and organize them to ensure they are always present inside the mosque complex helping women visitors with whatever assistance they require," said Al-Dhilaan.

The volunteers are divided into four shifts to cover 24 hour service daily, she added.

Al-Dhilaan said the volunteering team includes emergency and first aid paramedics, a supply manager who provides the team with medical equipment, a statistics manager who reports the patients the team deals with to officials at the higher management and a media manager who follows the workflow of the team to ensure that all obstacles ahead of them are dealt with.

"This year is remarkable for the team because the Red Crescent began documenting the work of the volunteers electronically and will hand out certificates of appreciation to them. We would also like to have walkie talkies and other advanced communication equipment and facilities to be able to do our job better," said Al-Dhilaan.

She said they have rescued many patients including a woman who had a heart attack while praying and a woman who broke her hip after slipping in the restroom. Some patients are treated on the spot and while others are transferred to the nearest health facility, she said.

Source: http://www.saudigazette.com.sa/article/535648/SAUDI-ARABIA/Women-paramedics-volunteer-to-help-visitors-of-Prophets-Mosque