Interpreters in 10 languages translate for Umrah pilgrims
Wednesday, May 30, 2018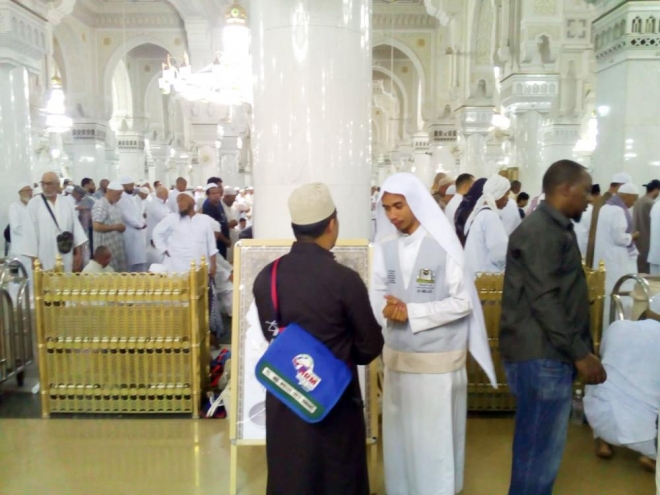 Okaz/Saudi Gazette

MAKKAH — The Presidency of the Affairs of the Two Holy Mosques has established a unit under the name "The tongue of the pilgrims", which is responsible for translating to the non-Arabic speaking pilgrims to guide them in and outside the Grand Mosque.

Fadi Hijazi, acting director of the unit, has said the translation services will also be provided to the pilgrims in their accommodations.

The unit is part of the department of translation, which was established more than a year ago to serve the guests of God who do not speak Arabic.

Hijazi says his interpreters translate to and from 10 languages including English, French, Urdu, Malay, Persian, Turkish, Russian, Hawsa, Chinese and Bengali.

"We are trying to cover the languages spoken by a large number of pilgrims who cannot communicate comfortably in Arabic," he said.

Hijazi said the interpreters covered all corners of the Grand Mosque especially the most crowded areas and worked 24/7.

He said the interpreters were also stationed in the passages leading to the main gates and the vital roads leading to the central area around the Haram.

He also said the unit was providing radio services within the Haram's radius by transmitting the duaa and excerpts of the Friday sermons.

"The pilgrims can tune into the FM frequency to listen to the radio," he said.

Hijazi considered the unit as an additional service being provided by the presidency to the guests of God.

"We provide place guidance to the pilgrims so as not to get lost in the Grand Mosque. We also help them to easily reach their accommodation outside the Haram," he said.

Source: http://saudigazette.com.sa/article/535963/SAUDI-ARABIA/Interpreters-in-10-languages-translate-for-Umrah-pilgrims