Electric scooters for elderly, disabled pilgrims in Haram
Tuesday, June 5, 2018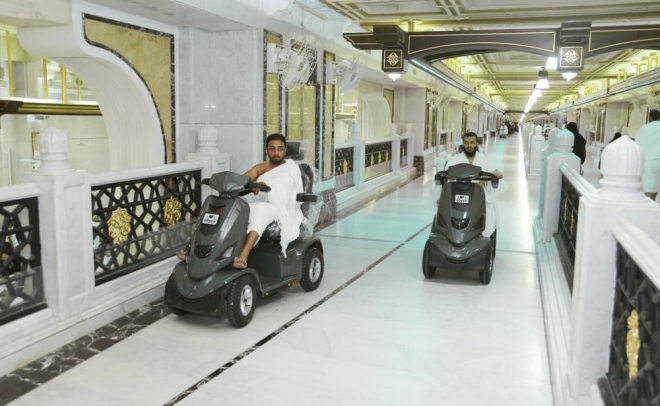 By Faisal Al-Silmi

Okaz/Saudi Gazette

MAKKAH — The General Presidency for the Affairs of the two Holy Mosques has said it implements strict safety regulations on its electronic scooters.

Head of transportation services at the presidency Saleh Howsawi said scooters exist to help the elderly and people with special needs during Tawaf (circumambulation of the Holy Kaba) and Sa'ee (back and forth movement between the hills of Safa and Marwah).

"The rate of accidents caused by the electric scooters is hardly mentionable. Children are never allowed to use them. All scooters are given and operated under our supervision. We have a team of 168 supervisors and technicians in the mosque. We organize the movement of 700 scooters," said Howsawi.

He added the scooters have a limit. They shut down after 40 km, which is enough to perform sa'ee. Users can complete three full rounds of the pursuit.

"The scooters are accessible through four gates: Al-Shabikah Gate, Ajyad Bridge Gate, Al-Arqum Stairs Gate and Al-Marwah Gate. We also have more than 3,000 Saudis helping the users and guiding them through the mosque," said Howsawi.

He also said there are electric scooters in other areas of the mosque as well.

"There is a total of 8,700 scooters placed at various locations. We have put up signs directing the pilgrims. We also printed QR codes on the signs so pilgrims can scan the code and be directed toward the pickup points of the scooters," said Howsawi.

Source: http://www.saudigazette.com.sa/article/536365/SAUDI-ARABIA/Electric-scooters-for-elderly-disabled-pilgrims-in-Haram