No More Kaaba Selfies For Pilgrims, M'sians Say 'No Problem'
Friday, December 1, 2017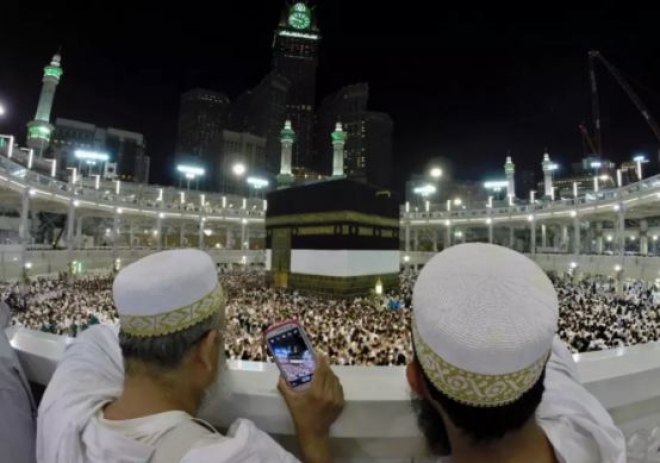 Future umrah and haj pilgrims from Malaysia will no longer be allowed to take photographs or selfies in the Mecca Grand Mosque or the Prophet's Mosque in Medina due to a new rule by the Saudi government.

The statement is released by the Malaysian haj pilgrims fund board Lembaga Tabung Haji (TH), after they received an official letter from Foreign Ministry's consular division.

Group managing director and chief executive officer Datuk Seri Johan Abdullah said Malaysian pilgrims are now barred from taking photos inside the mosque grounds.

"TH will take proactive steps by informing the ban to future pilgrims during the basic haj courses which will be implemented nationwide starting December 2.

"Besides that, information and advice will also be distributed via social media as it is a faster and more accessible method to the public," he said in a statement yesterday.

He added all Malaysian pilgrims should obey all laws while they are in the Holy Land and maintain the positive image of the country's pilgrims due to their discipline.

"The notice will ensure peace, and safeguard the sanctity of the places of worship to those going to Mecca and Medina for their haj," he said.

Saudi's Foreign Ministry has distributed a circulation to representatives of various nations on November 12. However, the decision was only made available to international media last week.

They stated that the measure was taken to protect and preserve the holy sites, prevent disturbances of worshippers and ensure tranquillity while performing religious rituals, NST reports.

TH media relation executive Affan Aimaduddin Azami however said pilgrims are still allowed to bring in their phones while they are in both mosques.

"Pilgrims are only banned from taking pictures or recording videos, but their devices can still be brought into the mosques," he said.

Meanwhile, Minister in Prime Minister's Department, Datuk Seri Jamil Khir Baharom advises pilgrims to observe the new law.

"The ministry is of the opinion that the law is enacted after some pilgrims expressed their dissatisfaction when their faces were unintentionally recorded by others and uploaded into social media," he was reported saying in Kosmo!

Jamil Khir hopes the enforcement of the new law can provide more room for pilgrims to focus in their prayers.

As of October, 250,000 Malaysians have performed their umrah this year, while 42,200 have performed their haj.

A survey byKosmo! revealed that many Malaysians say they have no issues adhering to the new law. For housewife Sumarni Yusoff, 56, even though she is saddened that she is unable to take photographs for memories' sake in the mosque grounds, she accepts the law to preserve her prayers.

"As a Muslim who rarely gets a chance to step foot in the Holy Land, I am a bit saddened to know about the new law. However, I understand that to focus on prayers is more important than taking pictures," she said.

A future haj pilgrim, Intan Nabila Ridzwan, 25, said the new law will ensure smooth foot traffic especially during the circling of the Kaaba.

Some haj and umrah operators are yet to receive any official statement regarding the prohibition of photographs in the mosques.

Management director of PDC Travel Sdn Bhd Rosli Taib said his company is still waiting for an official statement from the authorities.

"However, we have heard rumours of the prohibition of taking photographs in the Holy Land. Actually a similar law has been enacted in the 90's but it saw little enforcement, especially in recent times," he told Kosmo!.

Meanwhile, a spokesperson for Alif Travel & Tours Sdn Bhd told Malaysian Digest their company has already received a statement from TH regarding the new law and will inform their clients during the haj and umrah courses.
Source: http://malaysiandigest.com/frontpage/29-4-tile/710481-no-more-kaaba-selfies-for-pilgrims-m-sians-say-no-problem.html